---
Is Bitcoin losing's its dominance in the wider cryptocurrency market?
While I am not the first to notice this or write about it, it is becoming apparent with each passing day that Bitcoin, the granddaddy of pretty much every cryptocurrency on the market today, is losing its grip on retaining the crown for "the coin with the largest market-cap".
Taking a look at the first chart below from CoinMarketCap and we can see that #2 Ethereum ($21M) is quickly closing the cap with Bitcoin ($36M). Since Ethereum has a much larger total coin supply its market-cap is easier to move with every dollar increase in price as a result.
Expanding on the above point, we can see that with over 92 million coins in circulation for every $1 in price appreciation results in Ethereum's so-called market-cap increasing by a whopping $92 million. Bitcoin with its much smaller circulating supply of 16 million coins, requires a $5.57 price increase just to keep pace.
Although the use of this coin marketcap metric, in my opinion, is one of the failings of the way "cryptocurrency marketcaps" are used when comparing to traditional stock validations (see my article on CoinMarketCap), it is no doubt still a useful metric as long as it is kept within the cryptocurrency sphere. So as long as we are comparing cyrptocoins to cryptocoins, we can see that Ethereum is fast approaching Bitcoin in overall market value. In fact while looking at 24 hour trading volume (a much more useful metric) we can see Ethereum is edging out Bitcoin with about $130 Million more in daily trade volume.
While Ethereum is certainly the next logical contender to the throne, it is not the only coin experiencing rapid growth. Looking at the  the chart above we can see that the total market-cap of all cryptocurrencies pretty much stayed under $10 Billion for their entire existence early this year (2017). Now this figure has rapidly shot up to $45 Billion. This can be explained in part by the renewed interest generated in cryptocurrencies by big name players getting into the space, with the Enterprise Ethereum Alliance member list reading like a who's who of the big financial institutions and tech companies.
The rest of the growth we have witnessed is sort of a self fulfilling hype bubble that as the price goes up, it is drawing more people to the space, driving the price further upwards, and so on. It remains to be seen if this is the beginning or end of a massive bubble, but it is quite clear that the days of rapid growth are back.
In the next graph pictured above, you can see that up until early this year Bitcoin enjoyed a dominant position in the market as it retained above a 75% market share the entire period from 2013 until early this year. This has led to an almost unshakable belief, that exists even today, that so goes Bitcoin, so goes the market. Such adages as "a rising tide (Bitcoin) rises all ships (altcoins)" have long been used, and for the most part they have been pretty accurate. However, as shown above, Bitcoins share of the market has now dropped below 50%, to 46.17 percent as I write this. Clearly while it is still a strong force within the market, it is no longer the only force at work.
By zooming on the earlier graph and hovering my cursor over today's date, you can see the breakout (image above) of the top coins and their relative share of the market. Here again you can clearly see Ethereum quickly closing the gap with its 26% versus Bitcoin's 46% of the market. Ripple also has a strong showing with 10%, and even Ethereum Classic shows up with a 2% share.
What does all this mean? It is my strong belief that not only we continue to see the overall marketcap of all coins continue to grow, most likely hitting $100 Billion before the year is out, but also that Ethereum will continue to shrink the gap between it and Bitcoin. Baring any catastrophic news events to hit Ethereum, I also predict that it will end the year either tied for first place, if not become the outright dominant player in the field.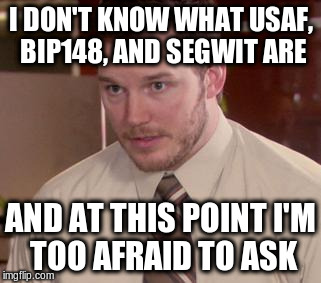 So while the Bitcoin community continues to fail to address its ever increasing block size issue, with Segwit, BU, BIP148, UASF, and many other proposals be floated almost on a daily basis anymore, Ethereum continues to slowly eat away at market share. I think even without the issues Bitcoin is going through Ethereum would still be making inroads on its own, but with Ethereum's rosy outlook combined with Bitcoin's blockchain size stalemate, a clear winner will soon emerge.
All that will remain at that point is to figure out if Bitcoin should be called an "Altcoin". 🙂